With the dawn of a new decade, we're feeling a newfound dedication to self-care here at the best salon in Bethesda. We've always believed in the healing and transformative power of making time for self-care in the beauty world and beyond, and this year we want to make it a little easier and more concrete for you, our Bethesda community. Read on for our favorite self-care tips and tricks and to learn about one of our favorite wellness brands, Sprayology.
WHY DO WE NEED SELF-CARE?
Simply put, we're collectively very stressed out. It's estimated that anxiety disorders impact 40 million adults in the United States alone—and even if you don't experience disorders related to anxiety, most people are still dealing with stress on a daily basis. And all of this stress can have a serious negative impact on your health and overall wellbeing.
If you experience chronic anxiety, you'll probably feel the impact beyond your mind and into your body. You might feel headaches, chest pain, digestive issues or trouble sleeping, and over time if you don't find a way to manage your stress, these physical symptoms can lead to serious health problems like high blood pressure and heart disease.
A BEAUTIFUL WAY TO STAY BALANCED
This might all sound scary, but there are so many things you can do to manage your stress and stay healthy. Things like meditation, staying active, eating healthy, spending time with loved ones, and of course, seeking out services that pump up the self-care and Zen. One of our favorite ways to kick the self-care into high gear is to try one spa service a month—this fills our cups and leaves us feeling rejuvenated and balanced out from the impact daily life has on our mind and bodies.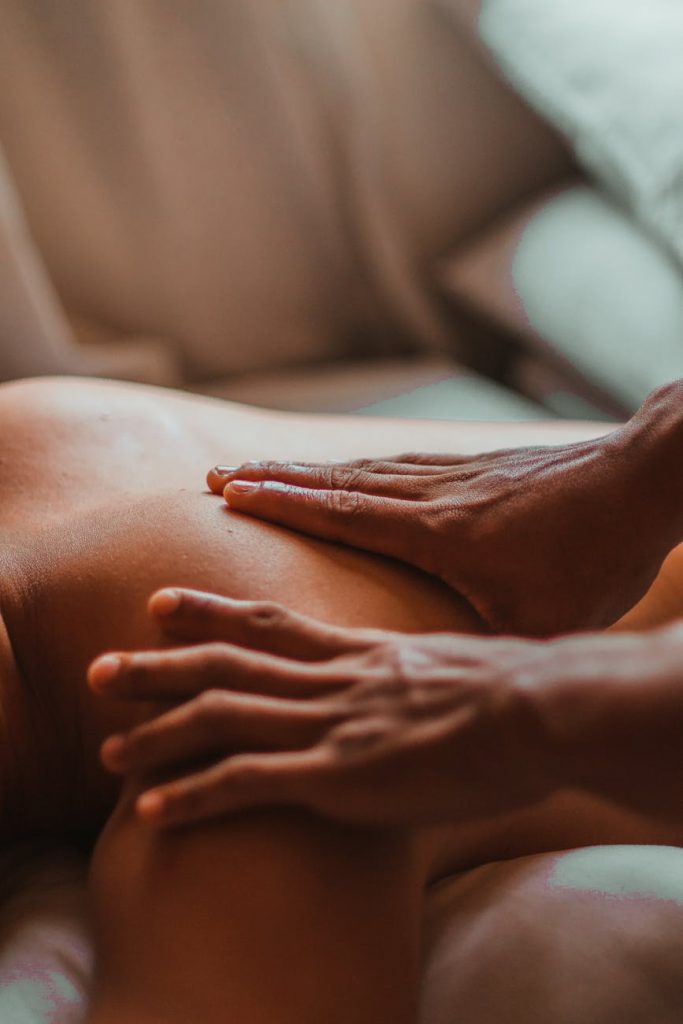 OUR FAVORITE SELF-CARE SERVICES
Because we are so much more than one of the top hair salons in Maryland, we also have a full-service spa with body rituals and reflexology to help you get the ultimate relaxation experience:
Stress-Be-Gone Body Ritual: This service addresses tension in your neck, arms, shoulders, hands and back. As a 30-minute service, it makes a great add-on to any of your other services to add that self-care kick.
Foot Reflexology: This is a gentle yet very effective therapy that relieves tension and clears blockages by stimulating sensory receptors in the nerve fibers of the feet. It's offered as a 15-minute or 30-minute service and guests report improved circulation and way less stress.
Customized Body Polish: This total exfoliation treatment sheds dull, dry, rough skin, leaving you smoother, softer, and well hydrated.
Facials: There's something extremely relaxing about a facial service, and we've got five rejuvenating options to pick from. Whether you want something quick, luxurious, customized, or anything in between, we've got you.
SPRAYOLOGY: THE SELF-CARE BRAND
We know that self-care is so much more than spa services, and sometimes you might just not have time to come in for an afternoon. That's why we love Sprayology, a brand that combines science with homeopathic medicine to make products that enhance healing and wellbeing. Their founder, Ellie Whalen, has been in the spa industry for over 20 years, and she started Sprayology because she needed products to help her feel better and deal with mental and physical stress, naturally.
View this post on Instagram
We love Sprayology products because they are easy, quick and they actually work. You simply spray the vitamin mix straight into your mouth, helping you get the nutrients you need to prevent disease and stress and promote overall wellness. They have something for everyone—whether you need an immune booster, help with sleep, or need extra boosts of certain vitamins and minerals. They even have products specifically to help with stress relief and body balance.
View this post on Instagram
YOU DESERVE THE BEST
Sometimes we hear guests say they feel guilty for treating themselves to luxury services and products, even in the name of self-care. And to that we say—what is more important than your health? Self-care rituals, services and products are about so much more than pampering, it's about healing from the daily grind on a deeper level so that you can be the best version of yourself. Come see us to experience treatments and products that will help you do just that, for 2020 and beyond.