In the beauty world, there are fewer things sweeter than getting invited to attend—and show off your hair and makeup skills at—New York Fashion Week. While we knew our team has always had what it takes, sending them off to the Big Apple felt more rewarding than we could have ever imagined.
We couldn't be prouder of everything they accomplished, and we're excited to share their journey with you. Below, a recap from our stylists Issi Rivera and Navan Hok who worked behind the scenes with Aveda at their first-ever fashion week.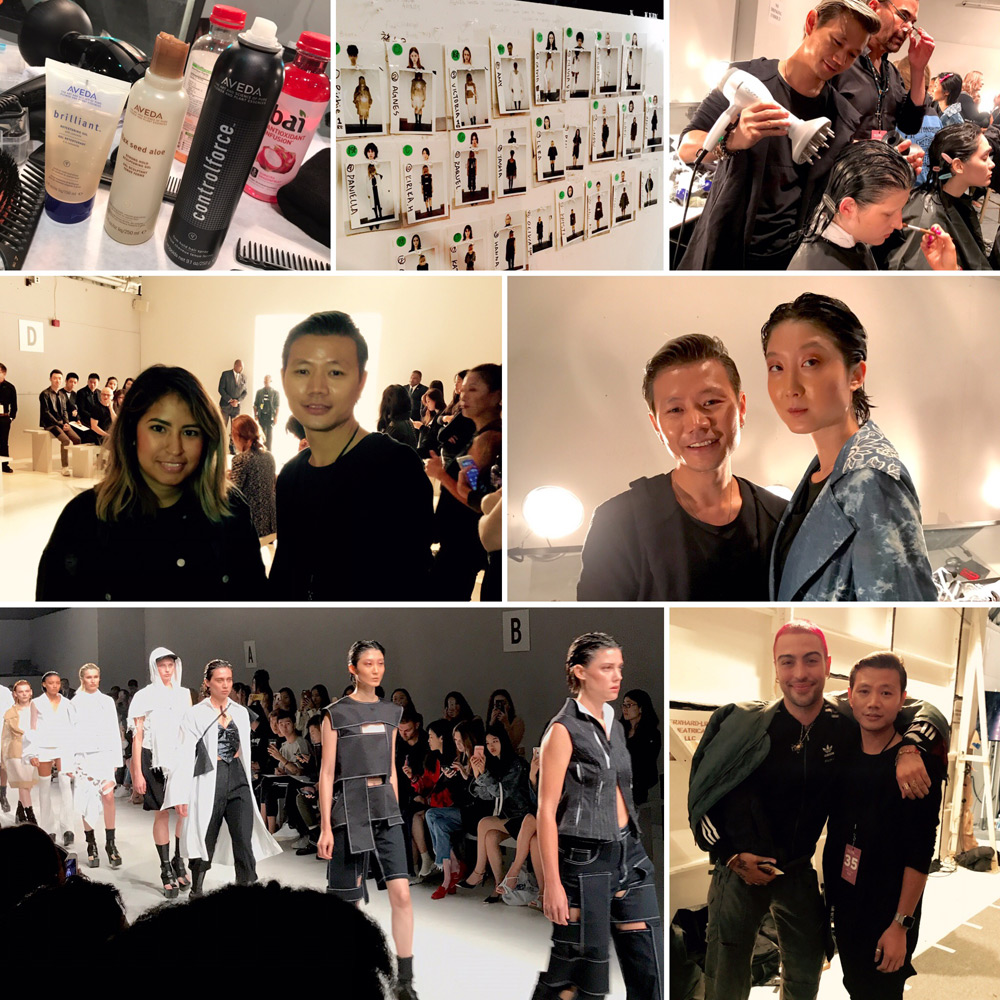 Photos courtesy of Issi Rivera
Q: What were your expectations and how did you prepare?
Issi: My expectations were complete and utter craziness! We prepared by doing a mock NYFW where we focused on teamwork, time limits, and how to pitch in if you finished your task early.
Navan: I expected it to be fun and inspiring, and to learn from others. I prepared by practice, practice and more practice!
Q: Walk me through your day.
Issi: We did three shows on three different days. Each day, we had to be there three hours before the show. We worked the entire three hours each day! The first show we did was Yajun. The second was Leanne Marshall and the third was Chiara Boni. Yajun was a wavy wet look and Leanne Marshall was a messy pony. Chiara Boni was a low pony, which we then braided into fishtails and pulled apart into a bun. It was a very fantasy look!
Q: What were your goals in creating those looks? How did you achieve them?
Issi: My goal was trying to get them done in time! If the look lasted at least 15 minutes (the length of each show) then we were good. We achieved this with lots and lots of product, hairspray and, of course, teamwork.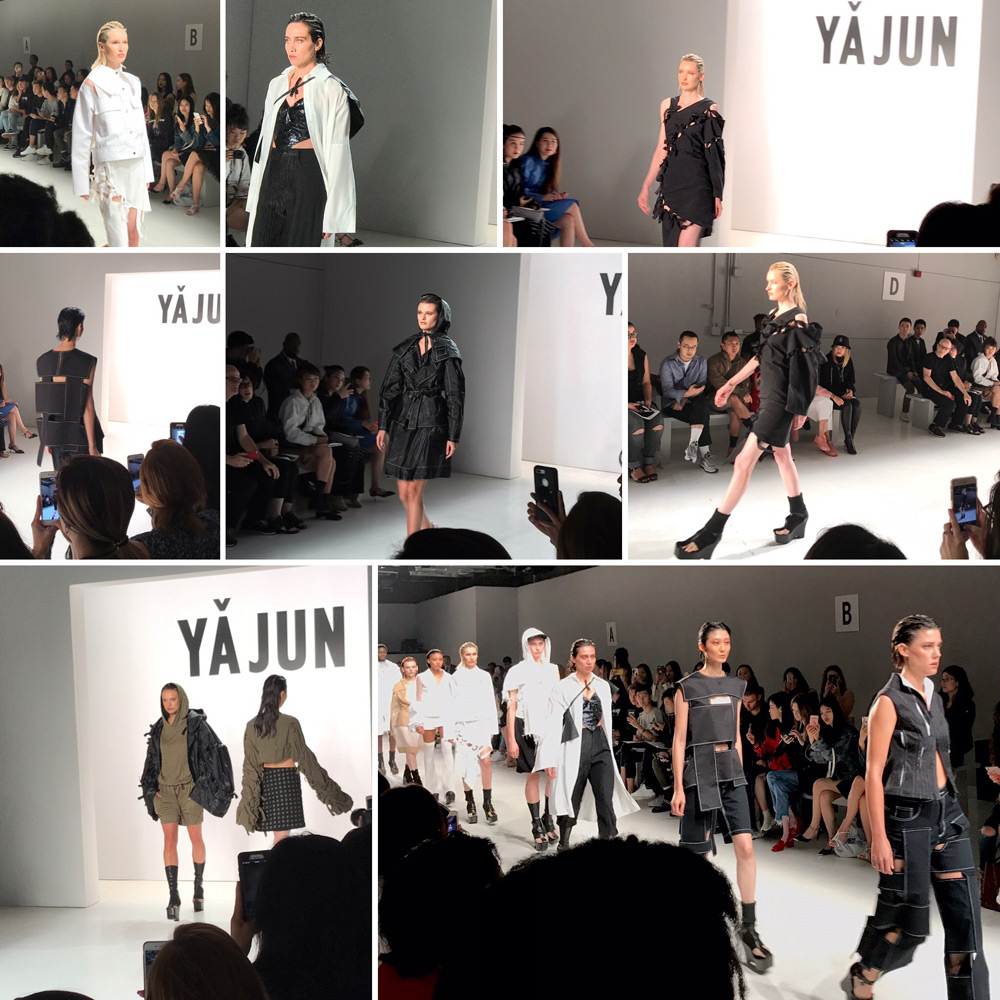 Photos courtesy of Issi Rivera
Q: How would you describe working behind the scenes to someone not familiar with fashion week? 
Issi: Hectic and energetic. The most surprising part is all of the various moving pieces, but if everyone's doing what they're supposed to with hair, nails, makeup and wardrobe, it runs smoothly.
Navan: Definitely high energy! Everyone is always ready to go.
Q: What was your biggest inspirational moment?
Issi: During the Yajun show we were in a huge time crunch and needed to do a quick look. Usually we'd have to partner up, but there was just no time, so I just grabbed a model and started doing it on my own. Jon Reyman* looked over at me and said, "YES. That's it. That's exactly what I want."
*Ed.'s note: Reyman is a salon owner and celebrity hairstylist and educator.
Q: Wow! That's amazing. Congratulations! Any more memorable moments?
Issi: Ten minutes before one of the shows, the designer decided he wanted flowers in the models' hair—we had to incorporate them while they were in line to walk! It was pretty cool and thankfully we got it done.
Q: What are you most excited to bring home from the experience?
Issi: It doesn't need to be perfect! The hardest looking updo or style might look really complicated and hard, but it really isn't if you look at it step by step.
Navan: The energy! I'm excited to come home and continue that collaborative, team effort that was so crucial during the week.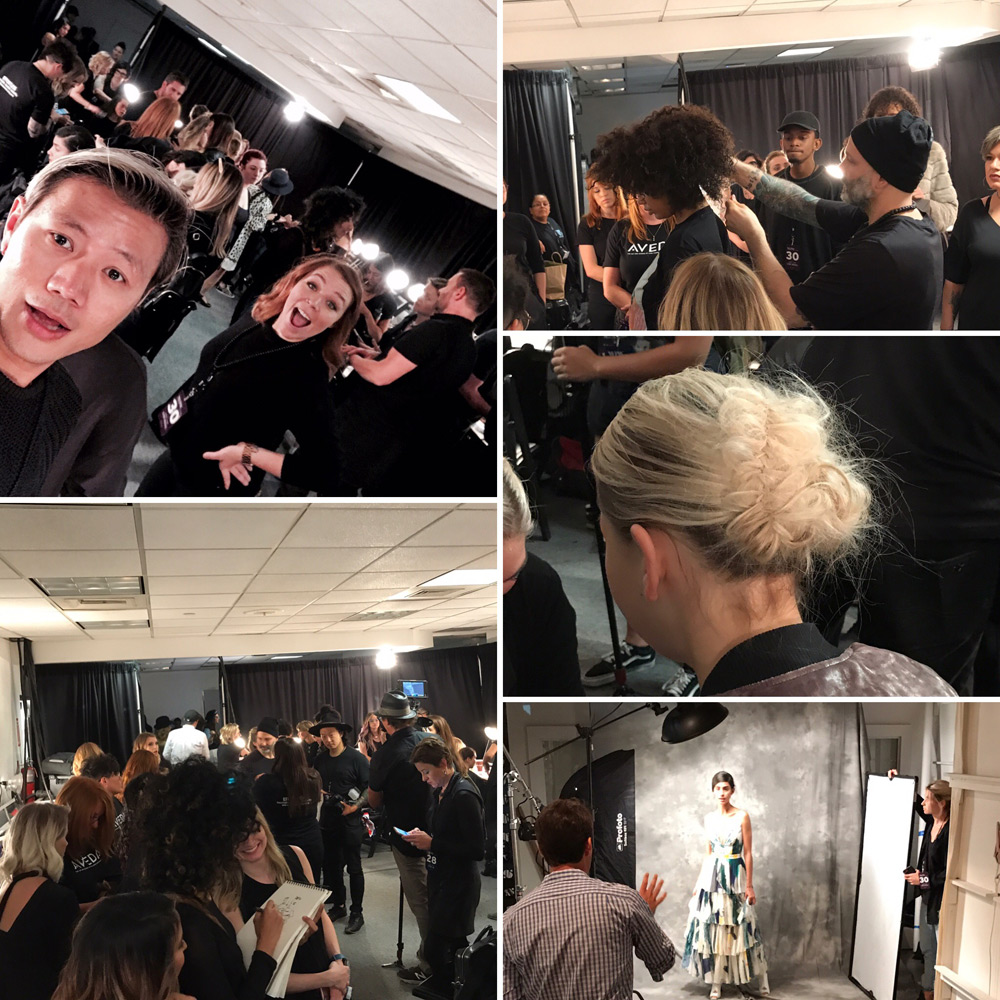 Photos courtesy of Issi Rivera
Thanks so much for the chat, Issi and Navan! While these two are busy settling back into things here at the salon, Sung Heinrichs is preparing to head to an exclusive Bumble and bumble education class in October. She'll be working right alongside Laurent Philippon, Bumble and bumble's Global Artistic Director and world-renowned editorial stylist in NYC. Stay tuned to our blog and Facebook page—we'll be sure to update you on all that she learns.
WHAT'S NEXT
Those of us that aren't catching flights to and from NYC are busy prepping for our next in-salon education event! It's happening Oct. 30 and we'll be chatting about all things Pulp Riot. Pulp Riot's hair colors range from lime green neons to baby pink pastels. The shades are vibrant, vegan, and gluten and cruelty-free. Best of all, we've found this color lasts longer and fades more beautifully than others on the market.
As you can tell, at Progressions, our team is always learning and perfecting their craft. We believe education never ends, and we invite you to join us on our journey! Follow along on our Facebook page or book an appointment to visit us in salon.