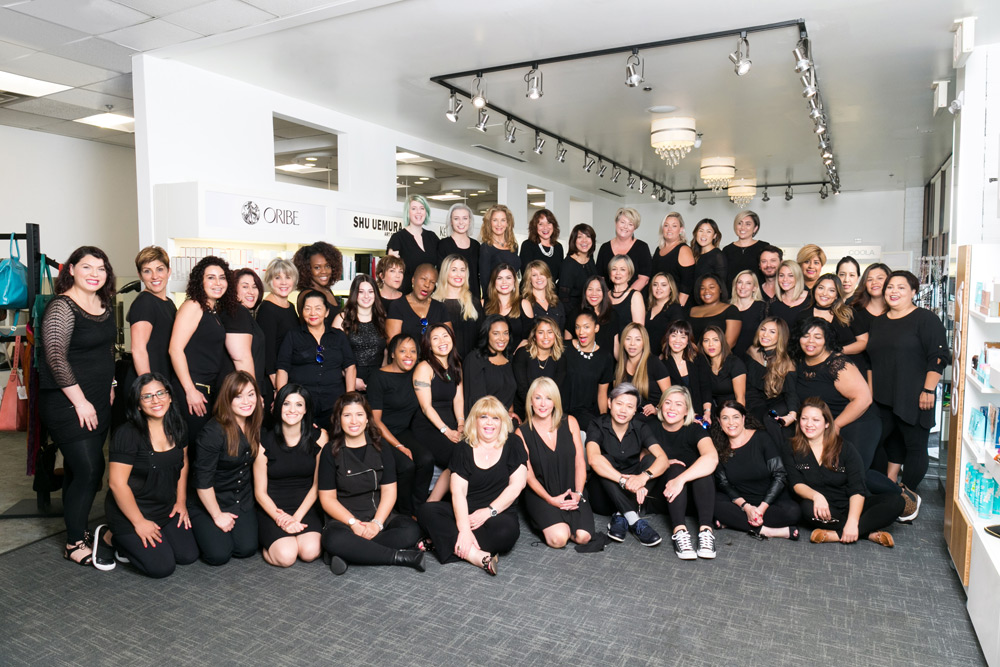 Source: Progressions
Each day, 121 people die from suicide, according to the American Foundation for Suicide Prevention. They leave behind thousands of survivors. In fact, the Progressions family includes two team members who have been affected by suicide. That's why we're on a mission to remove the stigma surrounding suicide and mental health.
Progressions salon spa store has partnered with umttr, a nonprofit suicide intervention program, to raise money for suicide prevention efforts. We are raffling off a $2,000 gift card to Progressions, as well as a pair of autographed Sugar Ray Leonard boxing gloves, in September, which is National Suicide Prevention Awareness month. Tickets are $5 each, or five for $20. 100% of money raised benefits umttr programs in Montgomery County.
umttr was born from the loss of an entire community. In 2013, 16-year-old Evan Rosenstock took his own life. By coming together to create umttr, members of that community work to help prevent the tragic loss from happening again.
Evan: an athlete and a friend to all
"My sophomore varsity basketball player son was a friend to everybody," his mother Sue Rosenstock said in a phone interview. "He meant something to the community."
Though Evan was an emotional support to many of his peers, few people—if anyone—understood the depths of his suffering. After experiencing chronic back pain and undergoing surgery for a herniated disc, he was unable to play basketball at Winston Churchill High School. Evan became depressed and ultimately took his own life.
His death sent shock waves throughout his close-knit community. Soon, four of Evan's friends of Evan approached Sue with an idea: they wanted to start a peer-led group to work toward suicide prevention.
"They said, 'If this can happen to Evan, this can happen to anyone,'" Sue recounted. "They wanted to form an organization to promote health and strength."
How Progressions salon spa store is helping
umttr
Today, umttr brings a peer-led, evidence-based suicide intervention model called Sources of Strength to more than 10,000 people in 11 high schools. By 2020, Sue hopes to reach 70,000 people—and with our fundraising efforts, we at Progressions are proud to provide as much support as possible.
"We're trying to communicate, educate and motivate people to understand mental health," Sue says. "It's kids helping kids. Evidence has proven that this program reduces suicide, drug abuse and bullying."
Crucial in that understanding is an awareness of the five signs of suffering, which are taught as part of umttr's model, listed below
Identifying the five signs
While many people who are suicidal may be unwilling to share their thoughts and feelings with others, it's possible to recognize signs of suicidal behavior. These signs include:
Personality changes. Someone's temperament may change gradually or all at once
Poor self-care. This may manifest as a lack of attention to hygiene, reckless decision-making or both
Agitation. Your loved one might experience mood swings, a bad temper, or have trouble calming down
Withdrawal. They may be suddenly not interested in activities they used to enjoy, distancing themselves from friends, family and social events
Hopelessness. If someone feels despondent, as though things will never get better and there's nothing to look forward to, they may be feeling worthless or guilty
Regardless of age, race or gender, these five signs are a constant. "The signs of emotional suffering apply across the board," Sue says.
What to do when you recognize a sign of suicidal thoughts
Often, people don't want to bring up suicide—even if they think their friend might be considering it. Suicide is a difficult topic, and some people worry they may "plant the seed" of the idea in someone's mind. However, avoiding the topic may make it worse .
"If one of your office mates started showing these signs, you would say something," Sue says. "They're critical for people of all professions to learn."
If you know and identify the signs, react by taking care, checking in and engaging with your loved one, while remembering to relax.
"If we can replace 'I' with 'we," we can change illness to wellness," Sue says.
Once you recognize one of the five signs, you should say something. It's appropriate to ask directly, "Are you having thoughts about killing yourself?" Teenagers may also talk to an adult about a friend exhibiting the five signs.
Bringing hope to people who are suffering
In addition to helping found umttr, Sue hopes to use Progressions salon spa store as a vehicle to spread the message of hope. We plan to teach the five signs to salon staffers, so that they know how to listen, reach out and care for clients in the most profound way.
"We can put up posters of the five signs and five habits at every station in the salon," Sue says. "That would make it easier for everyone. It's something we could refer to that would create the conversation."
To get involved with umttr, click here. To purchase raffle tickets online, click here, call or text (301) 231-8757 or buy them in-store at Progressions salon spa store.
And if you are thinking of suicide—know that you're not alone. Call 1-800-273-TALK or send an anonymous text to 741741.
We're all in this together.