With the holidays approaching, we're reminded that November is the perfect time to reflect on gratitude and giving back. Giving back to our community is built into our mission as a company, and every time you visit Progressions, you are helping us make the world a better place.  Whether you are supporting a charitable event we sponsor, participating in a fundraiser near and dear to our hearts or buying a gift from a philanthropic line we carry, thank you for helping us give back year round.
A TRADITION OF GIVING
We are proud to host and sponsor efforts that make the world a better place. Below, some of our favorite charitable causes.
Sending

blanket

s

with affirmations to people who have fallen on hard times, because everyone could use more comfort in their life.
Raising money for

Suicide Prevention

and mental health awareness—we are so proud to have recently raised $10,000 for UMTTR, thanks to the help of our amazing community.
Sponsoring coat drives in the winter for teenagers in our community—because Rockville winters can be tough, and a warm coat can make all the difference for those in need.
Planting trees in honor of our guests loved ones that have passed, as our way of keeping their memory alive through nature.
Sponsoring meals for families during Thanksgiving, because everyone should be able to share a warm meal with loved ones on this day.
Offering complimentary hair and beard services to the men at the local homeless shelter to help them prepare for job interviews and get started on a better path.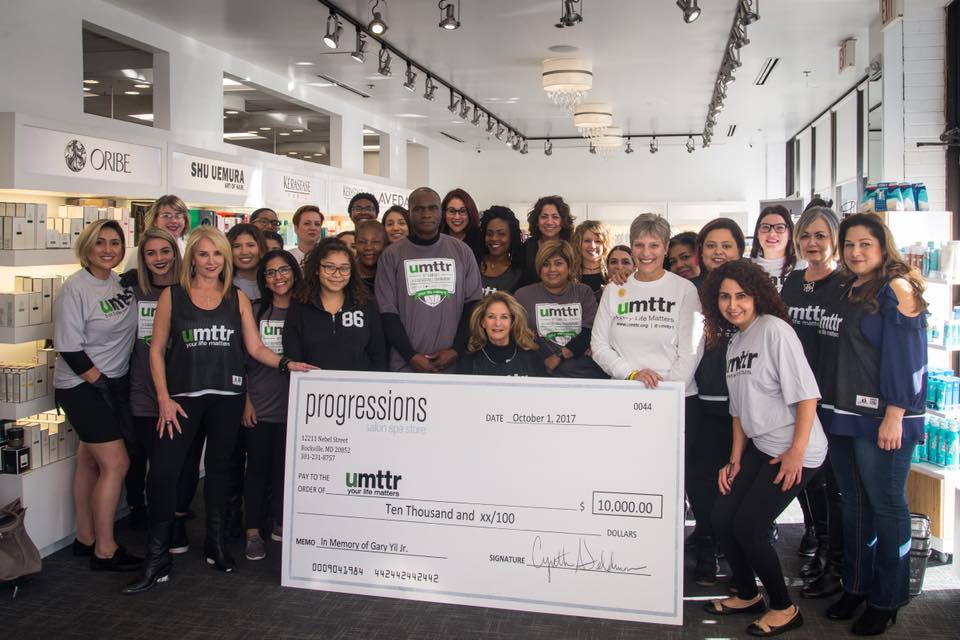 BUY LOCAL, DO GOOD plus 10% off 11/25-26
By now, you probably know how important and rewarding it is to shop and support local businesses, especially during the holidays. When you buy from locallyowned businesses, a significant amount of your money is put back into the local economy, encouraging local prosperity. That's why we support the Central Farm Market and all the local businesses it uplifts.
To put it into perspective, when you buy from a small business like Progressions, you are supporting 65+ families. That's a whole lot of power to do a whole lot of good! Every product you buy here allows us to continue being a sanctuary of wellness and beauty for you and our community. Your money goes toward our education, outreach efforts, and community services we continuously offer. Your purchases go toward initiatives that make the world a better (and more beautiful) place. You have the opportunity to shop local with us everyday, but we are sweetening the deal for Small Business Saturday (and Sunday) on November 25th and 26th with 10% off products.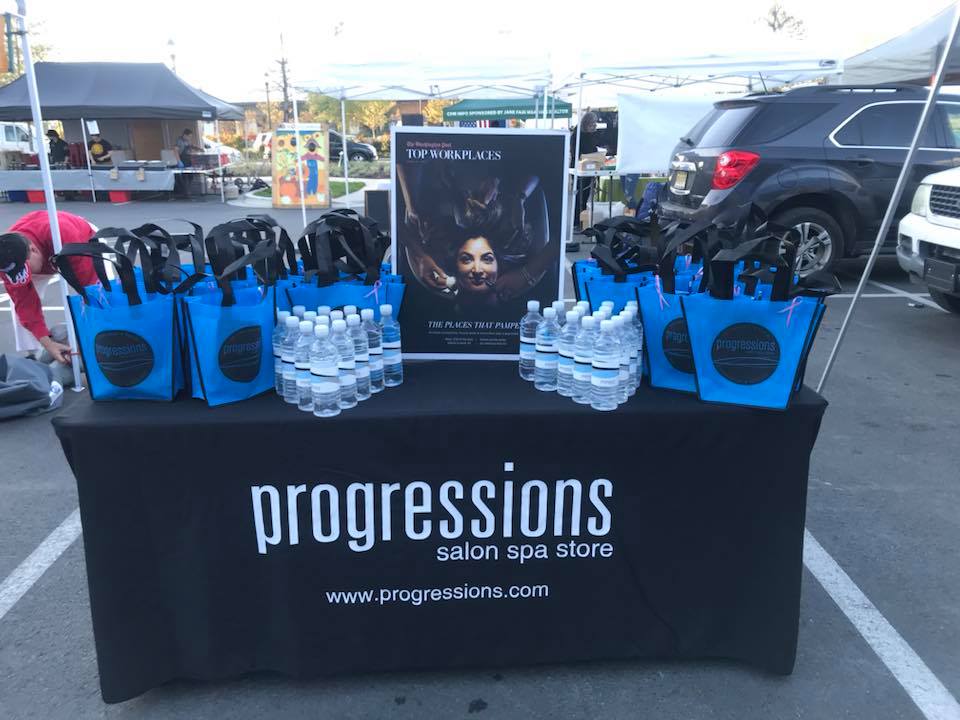 SHOP THE BRANDS THAT GIVE BACK
Your holiday shopping dollars do even more good when you spend them on gifts that give back. No matter what cause is dear to your heart, our carefullycurated gift boutique has a gift (and a cause) for everyone. Here, some of our best-selling favorites:
Buzzing about the bees?
Marin Bee is a skincare line with products made from sustainably harvested honey from local beekeepers. The products are chock full of powerful enzymes, probiotics, and antimicrobial properties to hydrate the skin. And, sales of Marin Bee products support the Planet Bee Foundation—an educational nonprofit that fosters the next generation of environmental stewards. 
Thinking of the global good?
Good Works bracelets are not only fashion-forward and inspirational, but the company donates 25% of their profits toward charitable causes. So when you buy the bracelets, your money is going toward things like after-school programs for underprivileged children, building schools in Kenya and Tanzania, and sponsoring healthy food for kids.
Want to spread the Maryland love?
HOBO is a Maryland company that sells gorgeously crafted leather bags. Through their special collections, they raise funds for local nonprofits such as Light House, Hero Dogs, Project Create, and the Washington Area Women's Foundation.
Passionate about women's empowerment?
Kimono Clips by Annie Loto are adorable hair accessories that provide jobs for stay-at-home-moms that need work in Thailand.
Environmentalist?
Eminence Organic Skincare creates natural and organic products using sustainable farming and green practices. Plus, they plant a tree for every product sold.
Is cancer dear to your heart?
Coola makes highquality organic sunscreen (made without chemicals) and donates a portion of profits to the Melanoma Research Alliance and Healthy Child Healthy World.
Care about animals, world hunger, LGBTQ rights, international refugees, veterans?
Chavez for Charity donates 25% of their profit from their bracelets to charitable partners that support all of these causes— the benefitting organization is listed on the tag, so you can pick the one you want to support.
CONNECTION—WHY WE ARE HERE
Cindy, the owner of Progressions, has woven gratitude and giving back into the foundation of the business. "We carry all of these brands in our store as part of our mission to foster connection in our community. They aren't all about creating money or profits, but rather about creating connection, which is what we are here on this earth to do."
We are proud that Progressions is known not only for its excellence in skin, hair, nails and beauty, but also for this mission of giving back. We are so grateful to our wonderful and loyal guests who have supported us for the last 33 years and made this mission possible for us.
READY TO SHOP?
You'll feel great about shopping local and supporting small businesses with a cause. Stop by our store in Rockville, or give us a call or text at 301-231-8757.