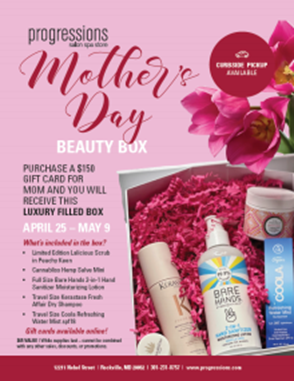 Mother's Day is just around the corner, and nothing goes better with brunch and mimosas  than a gift card from Progressions, the best salon in North Bethesda, MD.
This year we've got a deal you don't want to miss! Purchase a $150 gift card for mom and  receive a Beauty Box ($65 value) for you or to gift!
This luxury-filled box includes:
Limited-Edition Lalicious Scrub in Peachy Keen
Cannabliss Hemp Salve Mini
Full-Size Bare Hands 2-in-1 Hand Sanitizer Moisturizing Lotion
Travel-Size Kerastase Fresh Affair Dry Shampoo
Travel-Size Coola Refreshing Water Mist with SPF 18
This offer is available April 25th – May 9th (while supplies last). Visit us in store, call 301- 231-8757, or email info@progressions.com to purchase your gift card – curbside pickup  available.
Honoring Nurses
Before we celebrate moms on May 9th, we would like to honor nurses on May 6th for  National Nurses Day.
Now more than ever, we want to show nurses our appreciation and support. So we're  giving all nurses a swag bag with any retail purchase May 2 – May 6th
Progressions Recommends… 
We appreciate your support of Progressions, and want to pay it forward! Here are a couple of our favorite local businesses to shop (they've got great Mother's Day gifts, too!), and one amazing lifestyle company (they'll change YOUR life).
Bethesda Florist: Family owned for more than 50 years, there's a reason our favorite  florist is Bethesda's trusted source for special occasions. They can handle your delivery around the block or across the world! Not sure what mom would like best? Bethesda Florists can help guide you to a custom bouquet just right for your mom. Call 301-656-8200 so they can help you make mom's day.
Extend Yoga: There's yoga for everyone in this positive, nurturing environment that  supports and challenges you to extend yourself physically, mentally, emotionally and spiritually. Help mom unwind and destress with the gift of a yoga session this Mother's Day at Bethesda's top studio (learn more)—voted Best of Bethesda by Bethesda magazine in  2021!
Bright, Bold & Real: Start taking care of YOU with Bright, Bold & Real. This health and  wellness lifestyle site works to expand your mind-body health. Owners Dora and Tricia are  two of our favorite clients, and we want everyone to experience their amazing vibe: Join  their Sunday evening co-mindfulness meditations here.