Let's talk toners! If you're unfamiliar with this powerhouse product or you're guilty of skipping this vital step in your skin care routine, you could be missing out on your best skin yet. It's never too late to find your favorite product—and the right toner might just be the perfect addition to your regimen.
What is a toner, anyway?
A toner's job is to help balance the skin, remove any makeup, dirt and oil that's left behind after cleansing, and prep the skin for additional products. Toners can be categorized by their purposes, such as hydrating (perfect for dry skin), exfoliating (to brighten complexion and improve dull skin) or astringent (to rid of excess oil).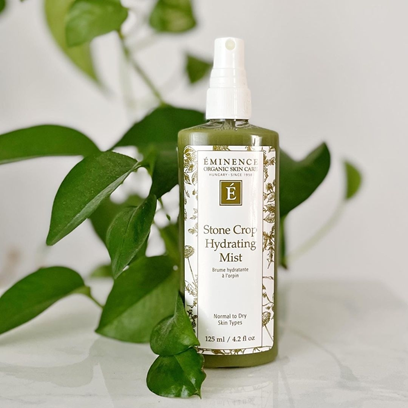 Eminence's Stone Crop Hydrating Mist is a revitalizing and healing toner for all skin types.
How (and when) to use a toner:

Choose a toner that is best suited to your skin care needs. The best toners target concerns such as uneven skin tone; acne and oily skin; wrinkles and fine lines; redness, pore size, dryness, dullness and sensitive skin. Apply the toner twice a day immediately after cleansing, when the skin is still damp. Spritz throughout the day for extra hydration. Stop by to shop Eminence toners and mists, or browse online here.
Plus, minimize the appearance of fine lines and wrinkles.
Need an extra boost in your skin care routine? Try Eminence's Neroli Age Corrective Hydrating Mist, a collagen-boosting toner for all skin types. This product is cruelty free and vegan and is formulated without ingredients that may irritate your skin, such as parabens, gluten, nuts, sodium lauyrl sulfates, synthetic dyes, petrochemicals, phthalates, GMOs and triclosan. You're just one spray away from firmer, tighter and revitalized skin!
Does your skin need a little extra love? Until August 31, experience a limited edition Vitamin C Summer Facial and receive a free summer clutch with the purchase of two vitamin C products. Browse our facial services here. Book your appointment online here or call (301) 231-8757.