Put down the tweezers! If you've been keeping up with the latest beauty trends, you know that brows are back with a bang. Gone are the days of the pencil-thin brow … fluffy brows are the perfect way to frame your face while staying fashion-forward.
But wait … don't bemoan your sparse brows yet! If you were blessed with less than overgrown brows or you have fallen victim to wayward tweezing (we've been there), brow lamination is here to save the day.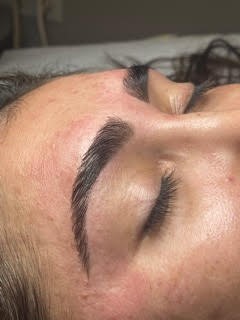 Yumi Brow Lamination is our go-to service for fluffy, fuller-looking brows.
All About the Brows
Yumi Brow Lamination is a technique to shape and fix unruly brow hair for a uniform shape. By adding symmetry to uneven growth patterns, lamination realigns your brows while creating a fuller look that lasts up to two months.
The best part? With a new protein composition of liquid keratin and silicone, Yumi Brows also encourages growth by creating a protective film around the hair—keeping brows looking full and healthy.
Our estheticians Angela, Maryam, Teresa, and Ellen are happy to consult with you on your Yumi Brows or lash service! Call 301-231-8757 for more information.
But First, Nails
Brows? Check. Lashes? Check. Nails? Check. A good manicure (courtesy of our nail techs, Rita and Nam) is an automatic mood booster—so set yourself up for success with Progressions' nail services. Click here to browse our manis and pedis!
Ready for amazing nails and brows? Don't wait to book your appointment. Book online here or call 301-231-8757.