Remember when the start of the fall semester didn't just mean new school supplies and shorter days–but a chance to reinvent yourself? Even if your school days are long gone, the urge to transition your look along with the season can be strong. And why fight it when the trends are this pretty? Here are seven hot hair looks to nab, now.
Brondes have more fun
Is it blonde? Is it brunette? Yes and yes! Bronde hair beautifully straddles the line between blonde and brown, combining the face-brightening qualities of the former with the easy upkeep of the latter. Best of all, there's a bronde to complement every skin tone. Bring in photos of your bronde-spiration and ask your stylist if balayage or other techniques for achieving golden, multidimensional tones might be help you get the look.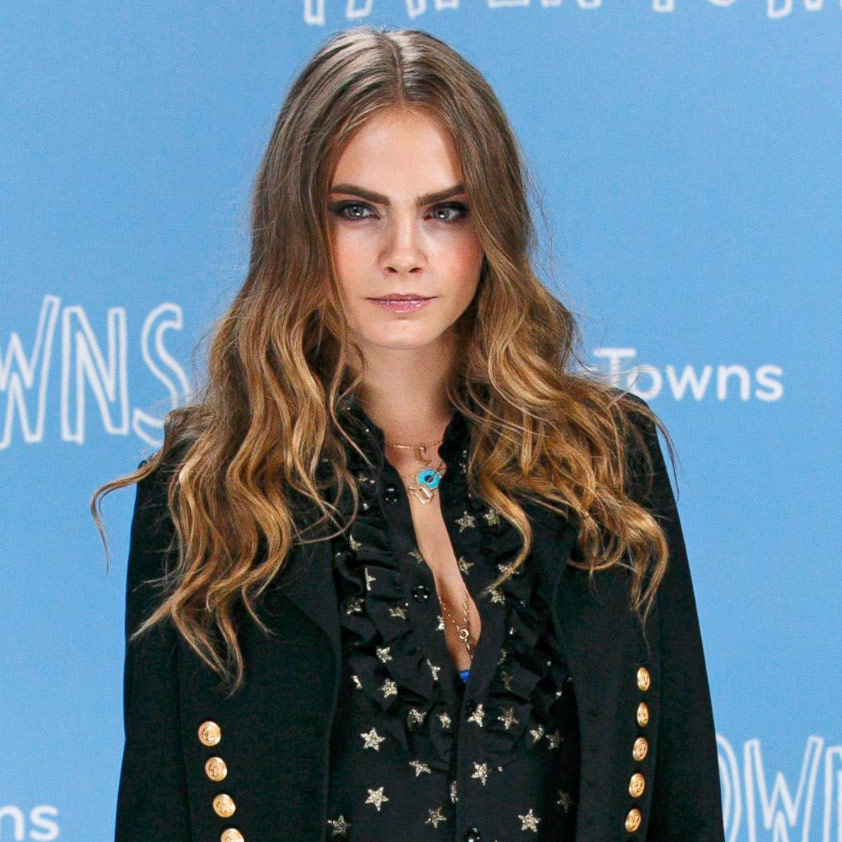 Lady in red
Scarlet foliage, mulled wine, cranberry sauce… So many wonderful fall traditions are associated with the color red, why shouldn't your hair be one of them? Here, Lilly Collins rocks an edgy yet glamorous red hue. Darker hair might need to be lifted a few levels to achieve this color, but for lighter strands, a single-process is enough to achieve this intense, uniform look. Protect your investment—don't leave the salon without picking up a color-conserving shampoo and conditioner. Although it's a bold color, red fades faster than any other hue because its large dye molecules slip out of the hair's cuticle more easily.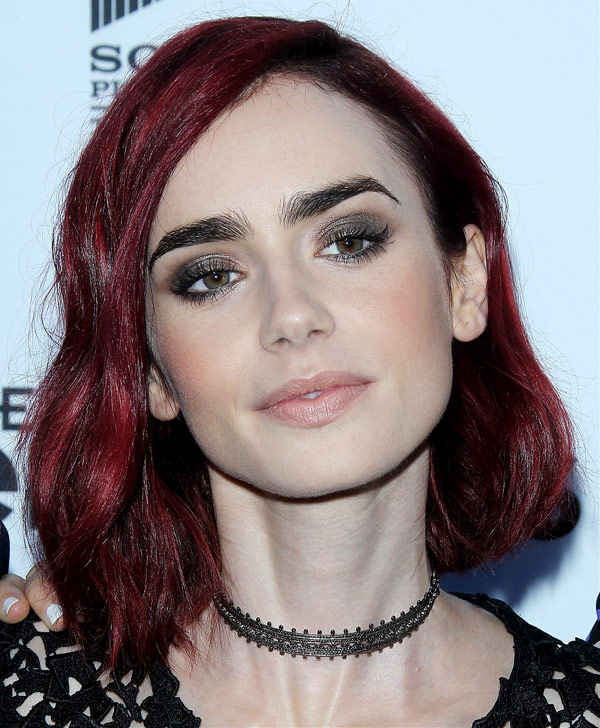 Embellish me!
At Rodarte's fall 2016 show, flowers both real and crystal-encrusted topped models' tresses. The moral of the story? You don't have to retire that flower crown just yet… but you may want to swap it out for a luxe Swarovski-crystal version when holiday parties roll around. For staying power, tease the section of hair and set with a firm-hold hairspray before sliding in a barrette. And don't limit yourself to just one or two hair accessories: more is definitely merrier when it comes to sparkle.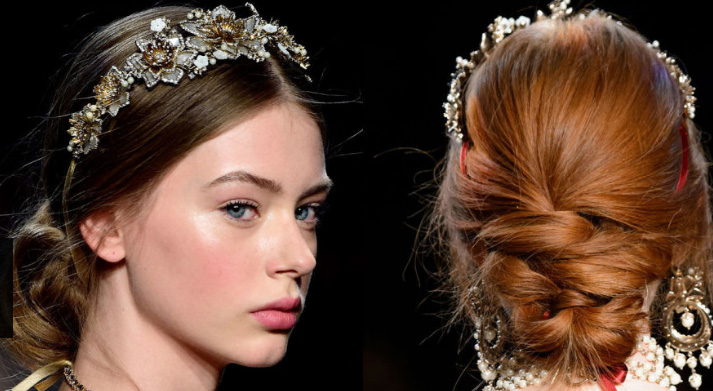 Head bangers
Until recently, curly girls were left out in the cold when it came to bangs– which were always shown pin-straight. We could flat-iron all we wanted, but if there was the least bit of humidity? Forget about it! Which is why the recent trend of curly, girly bangs is such a refreshing change. Fendi sent models down the fall 2016 runway, curls and cute cowlicks intact. Another bangin' inspiration we can't get enough of? Herizen Guardiola, who plays Mylene Cruz on Netflix's The Get Down. (If you haven't seen it, prepare to binge-watch now. You're welcome.)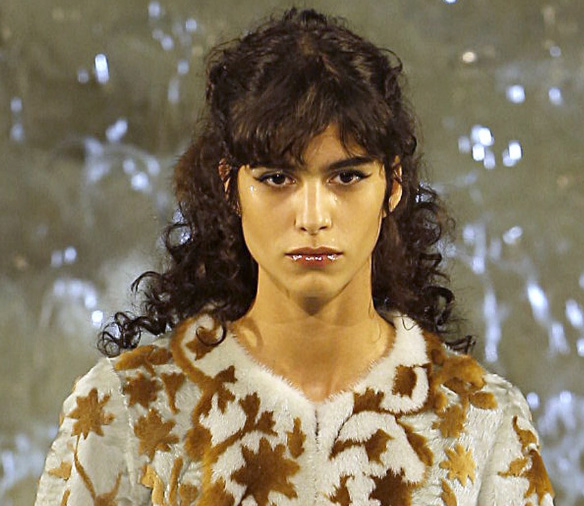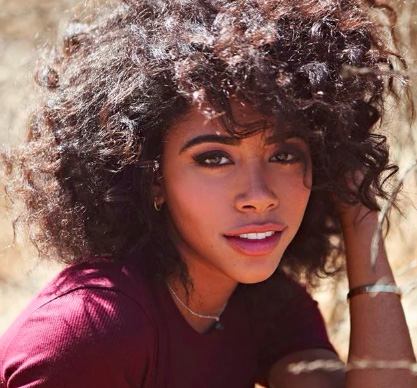 Knot too dressy
What to do when an updo feels too stuffy but wearing hair down feels too casual? A half bun, of course! This style is 2016's answer to the ubiquitous ballerina bun. People with finer hair can tease the top knot before securing it with bobby pins; thicker-haired gals can twist it tightly into a neat coil. And if you think the half-bun is a little too Kardashian-chic for a formal event, please feast your eyes upon Alicia Vikander, who rocked the style at this year's Oscars ceremony. '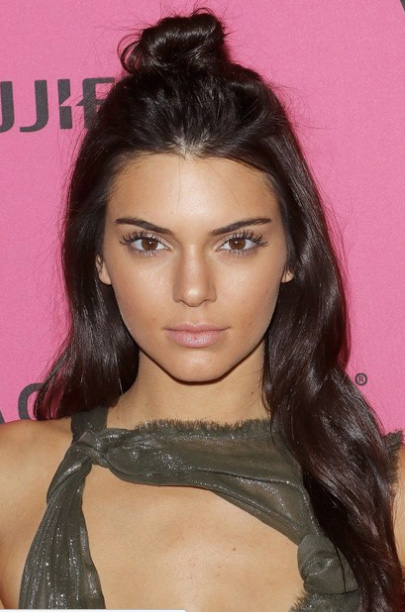 Wob it to me
Here comes the…wob? Yep, you read that right: the newest haircut is the wavy bob. Ideal for wavy and curly hair types, its ends hit anywhere from shoulder- to cheekbone-length. Let hair air-dry, then define a few strands with a texturizing spray. People with finer hair can use a texture spray and big-barrel curling wand, or twist hair into pin curls and air- or blow-dry. For added volume, use a dry shampoo on next-day hair.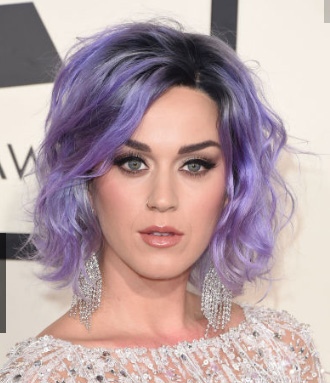 Parting words
It's not news that the 1990s are back–and this season, the side flip makes a reappearance. Use a volumizing spray and tousle hair to give it an update with added volume and bedhead allure, then part it deeply on the side. Or make like Herve Leger and update a side flip by weaving a braid along the side of the head. Voila: what's old is new again.