At Progressions, we're proud to be one of the top salons in Maryland, and we understand that along with our success comes a responsibility to give back to our community. We're involved in a large number of community outreach and philanthropic endeavors throughout the year, but being back-to-school time, we wanted to shine a special light on a couple of the student-focused programs that we love: the MCPS Summer RISE program and the MCCH Back to School Fair.
Summer RISE
Our involvement with Summer RISE came via its founder, Elaine Chang Baxter, who is a Progressions client. Summer RISE is a three-week, 60-hour program for rising juniors and seniors in the Montgomery County Public Schools, during which students participate in career-based learning with their host. Each host teaches students about their organization and how it functions as a whole, then helps them learn about careers within their organization. The experience exposes students to career field options and provides students with guidance and advice from industry professionals in careers they may want to consider.
This summer, Progressions owner Cindy Feldman was host to a Summer RISE student who wanted to come in and learn about the business and about salon life in general. As someone who started in the industry at the age of 15, Cindy feels passionate about reaching out to young people coming up.
"The more we can incorporate kids into our world the better chances they will have. I think that when you are in a mindset of gratitude, every guest that comes into my business and team member experiences a reciprocation of energy. It's a relationship. Give and take. It can't just be taking from, it has to be giving back."
"Those are the important pieces to my core values and who I am as a human being. As to why I am in business and why I do this for the last 35 years. It's a pillar of the foundation of who we are."
MCCH Back to School Fair 
We're currently still gathering school supplies for kids attending the Back to School Fair put on by the Montgomery County Coalition for the Homeless (MCCH). This one-day fair provides fun, activities, and a backpack full of school supplies for over 300 children who have been served through MCCH's programs.
Throughout the many years that Progressions has participated, we've been able to gather the school supplies for at least 30-60 kids every year. And there's nothing as rewarding as seeing the kids get their gifts.
"We do backpacks and brownies, it's great to see the look in a child's eye when they get new school supplies," Cindy says. "It's getting to personalize gifts for these kids and present them during difficult times for these families, whether it's a single parent or a family impacted by job loss or illness. It's always met with such a level of gratitude that it makes you want to do more."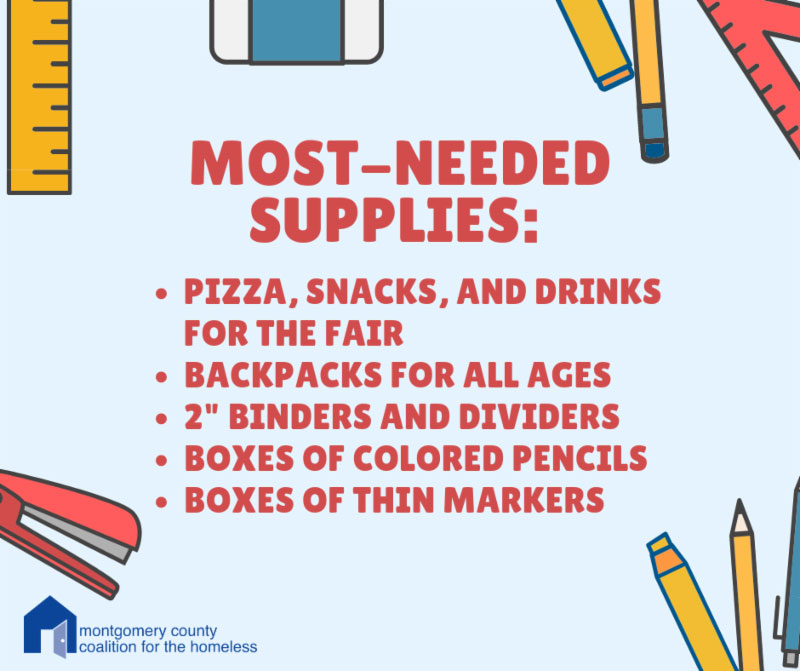 Source: MCCH https://www.signupgenius.com/go/30e0c48a4a922a6ff2-school3
How to Get Involved
As with all of our community outreach projects, we get lots of encouragement from Progressions' guests. Cindy says, "My clients love it. They want to be a part of something that makes a difference, not just a glossed-over version of beauty."
There's still an opportunity to get involved with the 2019 Back to School Fair. MCCH is still gathering school supplies through September 16. You can bring backpacks full of school supplies or just the school supplies themselves to Progressions and we'll bring them over to MCCH to be included in our donation.
To see a list of most-needed school supplies or for more information, CLICK HERE.
As Cindy says, "Every kid deserves to be prepared and equipped with the fundamentals to start school. It launches a successful school year if they are set up for success."
And that success is something we're invested in, from donations of supplies to donations of time and mentorship in the salon industry. Because as proud as we are of our success, it's not enough to be the best salon in Bethesda. At Progressions, we constantly strive to be the best people, neighbors and community members that we can be as well.