Stress, allergies, sleeping trouble, you name it—we've had it. While modern medicine is most definitely groundbreaking, these days, we're taking a step back (200 years to be exact). Enter Sprayology—a homeopathic remedy that does more than just offer quick relief.
WHAT IS HOMEOPATHY?
Homeopathy has been around for over 200 years and is the second most widely used medicine today (second to acupuncture)—and Sprayology has made it even better. It's based on a claim of doctrine that like cures like—a substance that causes the symptoms of a disease in healthy people would cure similar symptoms in sick people. In other words, it's the belief that the body is very responsive to little cues and small doses as opposed to heavy dosing. (For example, a flu shot.)
THE BENEFITS OF SPRAYOLOGY
Sprayology was founded over 18 years ago with a simple mission: to feel better naturally. The company's founder found herself not aging or feeling well, becoming a classic case of a workaholic that loved to play, under lots of medications and ultimately, seeing little improvements. Finding a way to care for herself naturally was not an available option—until Sprayology.
The main benefit of Sprayology is that unlike most cases with allopathy (the branch of medicine that involves physically taking medicine and drugs, or undergoing surgery), it finds the root of your problem and what you're experiencing. More and more people are finding themselves dissatisfied with allopathy, and are open to experiencing natural remedies, and homeopathy couldn't be a better option.
A NEW, SIMPLE WAY OF WELLNESS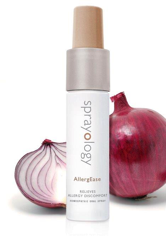 Sprayology can be used as a part of a preventative wellness routine or to treat case-by-case. From AllergEase for allergy-related discomfort (think: itchy eyes, headaches and sneezing) to Life Detoxer to prevent and neutralize the daily toxins of life, there's a spray for everyone. (Even a jet lag formula to combat dehydration!)
HOW TO USE
Sprayology makes things simple—on each of the 23 different homeopathic formulas and two vitamin formulas, the directions, number of sprays and how many times per day to spray vary. No matter the directions, you'll spray in your mouth and under your tongue every time. Take them as part of a preventative wellness routine or use only as needed. Sprayology offers a simple, natural way to feel better—and leave you feeling more beautiful than ever before—from within.
COME SPRAY FOR YOURSELF
For those interested in the world of homeopathy, Sprayology (along with many other of your favorite brands at Progressions) will be at the salon on April 19 from 12-6 p.m. for our Dare to Bare event. The founder, Ellie will be here to answer any (and all) of your budding questions and to hand out swag bags. (Plus, you can test out your new favorite sprays and get a feel for what works best for you!)
To see more of our luxury brands, stop by our North Bethesda location or book an appointment online.