When it comes to skin care, Alchimie Forever CEO Ada Polla is a bonafide go-to girl. Beauty's not only her business, it's also in her blood: she is the daughter of one of Switzerland's premiere dermatologists and a biochemist with a specialty in antioxidants. Needless to say, when Ada talks beauty and wellness, we listen.
Last month, we got to do exactly that when we had the honor of hosting her at our Wellness and Stress Management Event. Whether you weren't able to make the event or (like us!) just can't get enough, we know you'll love reading up on her 15 Beauty Rules.
Thanks again for the visit, Ada—we loved having you!
15 Beauty Rules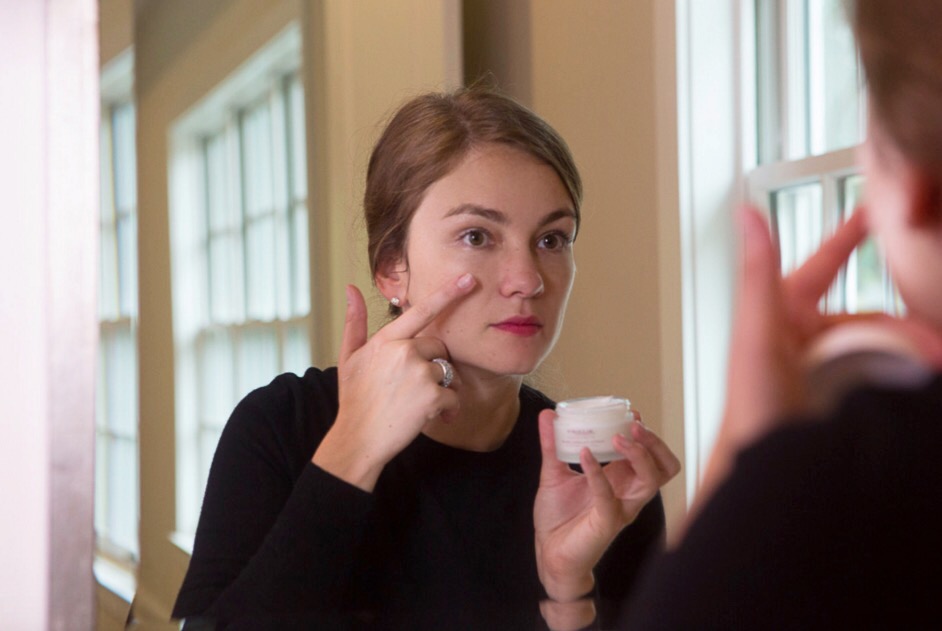 ADA POLLA | ADAMANTABOUTBEAUTY.COM
www.adamantaboutbeauty.com/15-beauty-rules
I was invited by Progressions Salon and Spa last week to participate in a Wellness and Stress Management event. In thinking about the theme, I was reminded of the core of my brand's DNA, and of the reason why my parents decided to create a product brand so many years ago: because looking good, means feeling good, means doing good. Indeed, looking good is a way to relieve stress, and increase wellness.
The question, of course, is what can we do to look good, to look better? Here are 15 rules, strategies, rather, that I learned from my parents – and that I follow religiously.
Prevention is everything. Don't wait to see wrinkles or have bad skin to use great products, get regular facials, and go to your dermatologist at least once per year. Think of your skin care the way you think of your dental care – you don't wait to have rotting teeth to brush your teeth daily; you don't wait to have cavities to go visit a dentist twice annually for your checkup. The same behavior applies to skin.
No smoking. Ever.
No sun. Ever. If you must sun, remember: no "unprotected sun." And no tanning beds either.
Never go to bed without washing your face. I recently learned from a very credible source (a German R&D specialist) that every day you sleep with your makeup on you age your skin 7 days…
Exfoliate once per week. Every week. This not only helps your skin look its best, it also will help all of your skin care products work better. Using expensive serums and masks on skin that is never exfoliated is like taking a shower with your rain coat on. It's a shower… but it's not exactly have its full desired effect…
Use a product with broad-spectrum SPF protection every morning. January 1 through December 31. Yes, that includes the winter months.
Use an antioxidant product every day, ideally twice a day. This will help your skin age as gracefully as possible.
If you're old enough to drink, you're old enough for a good eye cream. The skin around the eyes is the first to show signs of aging, so prevention is even more important.
Sleep on your back. You can train yourself to do this. Even if it's not all night, every night, it will truly make a difference. My dermatologist father can always tell on which side a woman (or man!) sleeps because the wrinkles are deeper on that side of the face.
Use products on your neck and décolleté. Your face does not end at your jawline, but rather just above your chest.
The hands are a woman's second face. Treat them like you treat your face, with anti-aging products and sun protection.
Use more skin care and less makeup as you grow older. Makeup ages you. Except mascara and lipstick.
Make an extra effort to look good on the days you feel bad, sick, tired, sad, upset, or are in a bad mood. Nothing brightens those hard days as regular compliments throughout the day about your lovely outfit, great hair, or fabulous necklace. It works every time!
Look at yourself in the mirror. Really look. That way you will never wake up thinking "how did this line just appear, it was not there yesterday…." Wrinkles take time to form. If you see them forming, you'll be less shocked or upset when you realize they are fully formed.
Every year you grow older, spend 1 more minute in your bathroom.