What makes Progressions' blow drys the best in Bethesda and beyond? A combination of top-scale tools, talent, products, and styling stations that keep stylists' comfort in mind so they can deliver the smoothest, bounciest, longest-lasting blowouts that would turn even the Duchess of Cambridge green with envy.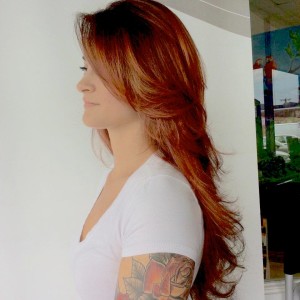 It starts with Progressions stylists. Our team consists of licensed cosmetologists who then continue through Progressions' extensive, advanced training program which ultimately brings them to the highest skill level.  Anyone providing services for any one of our guests must be the best. One of the very first techniques our stylists have to master is a beautiful blow dry. 
Notice the hair dryers hanging from the ceiling at Progressions? This is the Freestyle System of hair dryers, invented by an engineer to resolve carpal tunnel syndrome, and lessen the stress on the skeletal system. The Freestyle System is one of our secrets to the best blow dry in town. Having the dryer suspended from the ceiling takes the cord out of the way and reduces the weight of the dryer. So our stylists don't fatigue and they can deliver a great blow dry again and again, whether it's their first blow dry or their fifteenth.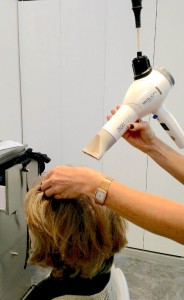 We often use only Ergo brushes — lightweight, non-slip, with ionic barrels that help minimize drying time by evenly distributing heat. They're proven to create a smooth, shiny, and humidity-resistant finish to the hair, and prevent color from fading.
And finally, our product lines are simply the best in the beauty industry — Oribe, Bumble + bumble, Kérastase, V76 by Vaughn … whatever your hair length, texture, health, or special needs, we've got the perfect products to improve your hair's integrity, make your blow dry last for days and look great.