Here at Progressions, we're so much more than one of the top hair salons in Maryland— we are also a place where our Bethesda community members can experience a huge variety of beautifying services and products from brands they can trust. We are so excited to tell you about some of our favorite new brands, Yumi Lashes and Cannabliss Organics. Read on for more details about these brands and our upcoming Cannabliss Organics Event on October 25, an event you don't want to miss, so RSVP today!
EYE CANDY HAS NEVER BEEN SWEETER
When we learned about the YUMI brand, we were instantly hooked. It's a revolutionary lash enhancement technique that boosts and lifts your natural lashes using keratin. It's vegan, cruelty-free, and non-toxic (meaning you don't have to worry about parabens, formaldehyde, or ammonia), and lasts up to 10 weeks.
View this post on Instagram
Our guests love that YUMI lashes are painless, safe, non-invasive, and provide a more natural look than traditional lash extensions—making it a perfect service for anyone taking a break from lash extensions or for those who want bold lashes without the expense and time investment that extensions require. Plus, a brow tint is included with the Yumi lash lift service, so your whole eye area will be brighter, bolder, and glamorous—all without any mascara or makeup.
View this post on Instagram
THE LASH SPECIALIST
Several team members have been beautifying our guests at the best hair salon in Bethesda since 2012. She's great at what she does and has the education to back it up—she's a certified eyelash stylist by Xtreme Lashes, Flawless Lashes, Artistic Lash Group and Skyn Lash Academy. So you can be rest assured that when you get a YUMI lash service with her, you're in good hands (and eyes).
Book your YUMI lash appointment today!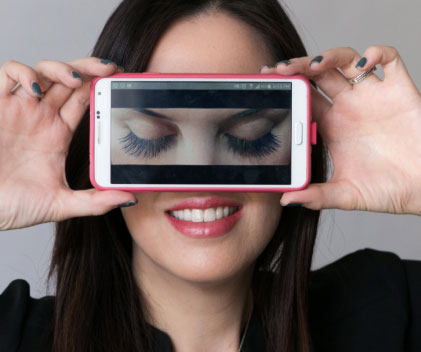 FINDING YOUR CANNABLISS
By now, you've definitely heard about CBD and how it can improve your life in a wide variety of ways (less anxiety, better sleep, and reduced inflammation, to name a few). But did you know that CBD can also help you get healthier, glowing skin? We've been on the search for the perfect CBD beauty line to bring to our guests (there are tons out there) and after doing some serious research, we found a brand we believe in. Enter Cannabliss Organics, a line of skin care products made with a high concentration of full-spectrum hemp oil that nurtures and heals your body and skin.
View this post on Instagram
THE CANNABLISS DIFFERENCE
What sets Cannabliss Organics apart from other CBD lines is the way their products deliver the nutrients to your body—they infuse their hemp oil with a special blend of ancient Korean herbs that allows your body to better absorb the healing benefits (not to mention, other plant-based goodness like goji berries). We also love that they use whole-plant CBD grown on their USDA organic hemp farm in Oregon, and their extractions are tested by a third party to ensure authenticity.
View this post on Instagram
Some benefits of Cannabliss Organics beauty products are:
Glowing skin thanks to vitamin-packed hemp oils
Clearing up acne
Less irritation thanks to natural anti-inflammatory ingredients
Relieving aches and pains
And if you're new to CBD, you might be wondering whether these beauty products will get you high, and the answer is no. While Tetrahydrocannabinol (THC) and cannabidiol (CBD) are both found in the cannabis plant, THC is the only psychoactive component, and CBD has all the benefits of improving the overall wellbeing of your body without any of the high (or munchies).
View this post on Instagram
A BLISSFUL CBD FACIAL
After learning about the many, incredible benefits of CBD for skincare, we created a customizable facial service using products from Cannabliss and Mantra Sheet Masks. The $125 service is a 60-minute facial tailored according to your skin's needs that day—whether you need something anti-inflammatory, balancing, or just want an extra glow, our experts will use the best products in the business and harness the power of CBD to make it happen. And as a bonus, we offer Mantra Sheet Masks and Cannabliss products in our retail section so you can maintain your post-facial glow at home. Call us to book your CBD facial: 301.231.8757.
WHAT'S THE BUZZ ON CBD?
Want to learn more about CBD and Cannabliss Organics? Join us on Friday, October 25 from 5:30-8:30pm in the salon for our What's The Buzz on CBD event. Cannabliss Organics founders and CBD experts Melissa and Nick Christensen will be here talking about their products, answering your questions, and making recommendations. We'll have cocktails, fun swag like luxury hair, nails and skin products, and more.
Reserve your spot today by calling us at 301.231.8757.