When it comes to men's grooming, it's the little details that matter. Clean, clipped nails and cuticles. Trimmed beards. Just the right amount of silver at the temples.
We're thrilled to see our chairs filling up with more and more men who have made salon grooming a regular ritual. These guys have learned that it's actually less time consuming to come in and get routine personal upkeep than it is to try it at home — and the results are ever so much better.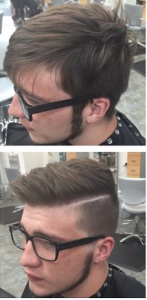 The most popular salon services for men among Progressions guests are:
Men's Re-Shade Hair Color. This popular men's hair color service isn't an all-over application, but a far more natural look that complements existing salt-and-pepper hair. (In other words, we amp up the pepper and tone down the salt.)
Beard Trimming & Shaping. As our bearded guys know, it doesn't just grow out of your face looking perfect. A little shaping and cleaning up goes a long, long way.
Beard Care & Maintenance. The hair in your beard is different than the hair on your head, and we use the perfect products to cover our bearded guests at both ends. We use and recommend the V76 by Vaughn luxury line of products for men, which includes Pre & Post Detailing Shave Oil to moisturize, and V Rated Natural Wax to tame and control.
Sports Manicure/ Sports Pedicure. Removing calluses, cuticles and dead skin from the hands and feet makes them not only look good, but is good for their overall health. We then exfoliate and moisturize the skin; and leave nails impeccably clean, trimmed and buffed. The result: extremities that look extremely good.
Men's Facial. Clear, healthy skin looks great on everyone. Deep cleaning, exfoliating and moisturizing facials are custom made for each man's unique skin type and needs.
Men's Body Waxing. From larger areas (like back or shoulders) to small (like ear or nose), regular waxing is not only thorough and long-lasting, but it actually makes unwanted hair grow back thinner, finer … and easier to wax next time. (Promise.)
Cool Men's Cuts. Hard parts, undercuts, fades and Euro-style precision haircuts are all over magazine photoshoots and fashion runways, and all over Progressions guests.
Clipper Cut Maintenance. Honestly, it only takes 15 or 20 minutes to get last month's clipper cut looking perfect again. We offer clipper cut maintenance packages at pricing that reflects the speedy nature of these upkeep cuts.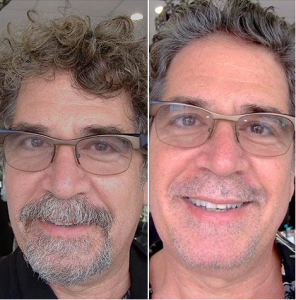 These services all come not only with the expert men's grooming skills you can expect from a Progressions stylist, but with luxurious little touches that make the most of your time with us — like steam towels with a spray refresher, or massage of the scalp or face. And we're expedient — we have our male guests in and out as efficiently as possible, because we know that's a big deal for them.
Check out the men's grooming offerings at Progressions, and let us know how we can help you nail those little details that make you feel handsome and confident.