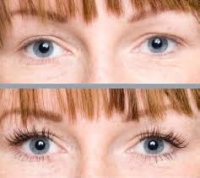 Receiving Eyelash Extensions is a practice that enhances the length, thickness, and fullness to natural eyelashes.  They are semi-permanent, composed of synthetic eyelashes that are weightless and curved to replicate natural lashes.  They're applied directly to each individual natural lash, one at a time, and are available in various lengths.  The result is long lasting and natural looking.
Our lash extensions have been exclusively developed to the highest standards of safety, quality, and performance.  It is a pain free procedure and is applied while your eyes are closed and you are resting comfortably.  The application can range from 45-180 minutes depending on the customized needs.  With proper maintenance, touch ups are typically needed every 2-4 weeks to maintain a full look.
As your natural lashes shed, the attached lash will also shed.  Extensions can then be applied to the new growth.
Allow Progressions' professionals to support you with your Eyelash Extension needs.  Complimentary consultations always available.